Currently reading: I Crawl Through It by A.S. King
My encounters with magical realism have been rather limited. I can only recall The Strange and Beautiful Sorrows of Ava Lavender by Leslye Walton, and Everybody Sees the Ants by A.S. King. That being said, whilst these were memorable reads, they were bizarre as much as they were intriguing. I Crawl Through It is so far, the most extreme on the magical realism scale, so much so that it has been dubbed as surrealist fiction. More on this in my next wrap-up!
As always, the publishing details and page count are based on the edition I read.
~~~~~
Ministry of Moral Panic| Amanda Lee Koe | Epigram Books/ 2013 | 216 pages
I actually read this in December, but forgot to include it in my last wrap-up.
This was stunningly brilliant. A Singaporean novel through and through, resonating on a startling level. And by Singaporean, I don't mean in a heavy-handed manner, such as through contrive dialect in dialogue or cultural idiosyncrasies usually delivered distastefully (often cringe-worthy too; a tell-tale sign of a green writer). Rather, Lee poignantly presents the mindset that the typical Singaporean grows up with, and the struggles that come with breaking free from it are so on point.
The characters are so cleverly and distinctly written, each carrying strong voices that demand to be heard, and are heard, through each short story. It's amazing how much we can glean from each one of them in the short number of pages they're given. This is one of those books when you can tell the writer knows what she wants to say, and has expressed it artistically, full of sensitivity and undisguised raw emotion. Some stories hit so close to home that they call for a reread. Highly recommended for anyone who wants to try out Singapore Literature but isn't sure where to start.
Also, I really need to read more local books. Never did I expect to enjoy this so much.
Rating: 4 parks
The Joy Luck Club| Amy Tan | Mass Market Paperback / 1989 | 332 pages
An impressionable, moving read that brings to mind what my former literature teacher once said, "All of you are bananas. Yellow on the outside, white inside." It is upsetting to read of one being ashamed of their own cultural heritage. This novel reminded me just how little I know of my rich culture and spurs a desire to be more in touch with my family history and roots.
An honest, bittersweet and beautiful book about immigrants, familial relationships, history and identity. Some traditional ways of thinking ring through even today; the relevance is surprising and the heart-gripping mother-daughter relationships make me glad to have picked up this gem. While I get that the han yu pin ying might have been misspelled to favour vocalisation, some are so far off the mark that they didn't register as my Mother Tongue… Or at least, how I learnt it, that isn't how they are pronounced.
Rating: 4 Mahjong tiles
I've Got Your Number | Sophie Kinsella | Bantam Press / 2012 | 387 pages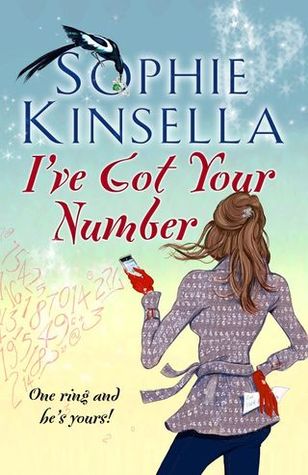 Finally! My first Sophie Kinsella book! I've been wanting to check out her books for quite some time now, having heard so much about them. I came across this title from the sampler I read on my Kindle and the beginning was SO FUNNY, that even after months, I remembered it and searched high and low for it at the library!
MAN WAS THIS A HILARIOUS READ I BREEZED THROUGH. I can totally picture this as a rom-com movie! Although somewhat predictable, the consistent characters were engaging to the end. The only qualms I had were the realism of the plot (for a contemporary novel, that ending seemed too "only happens in movie"-esque), and how the suspect reveal was handled (I mean, for those of you who have read it – that conversation during the confrontation – LIKE, REALLY?).
Also, technology, y'all. This book shows you just how dangerous it is when it comes to your personal privacy and (over)reliance on technology. To think this was published a few years back – what more now, with all the rapid advancements? We basically hold mini laptops in our hands and interact with it everyday.
But yeah, definitely picking up another Kinsella novel when I'm in the mood for a light-hearted read that will make me laugh.
Rating: 3 lost cellphones
~~~~~
I'm trying out this new section in my reviews where I list a memorable quote (that I liked) from each book. Readers who have read the books might better understand why I chose them (because context).
"If it's in the bin, it's public property."
Basically. One of the take-aways from I've Got Your Number :p
From Ministry of Moral Panic: "Small people need to talk more loudly to be heard. Well I'm small aren't I, I'm not even 1.6 metres tall, but you don't see me raising my voice. Maybe you're okay with not being heard. I just want to be heard by the right people. The right person."
She's got it right. And I'm petite too!
From The Joy Luck Club: "Isn't hate merely the result of wounded love?"
This reminds me of what my Geography teacher once said offhandedly: that to hate, there must first have been love.
I hope you've had a fantastic reading month!