I'm too camera shy to start a booktube channel, so for now, I've decided to post my book reviews on this blog (all of these reviews come from my Goodreads – I'm pretty active over there – but edited; some have afterthoughts littered throughout).
The bulk of my TBR comes from the library! Due dates stress me out more than they should – I like to take my time becoming a part of the worlds and getting to know the characters – but books are just really expensive.
But I digress.
While I did review both picture and chapter books I've read (the former thanks to my current job), I'm only going to post the reviews for the chapter books here, for they are much longer. These reviews are usually written soon (if not immediately) after I've finished the novel (while the story is still very much fresh in my mind), and I will indicate a 'spoiler' header in each section, if any, as a heads up, should the book be on your TBR.
Anyhoodles, I hope April was as good a reading month for you as it was for me!
Since You've Been Gone by Morgan Matson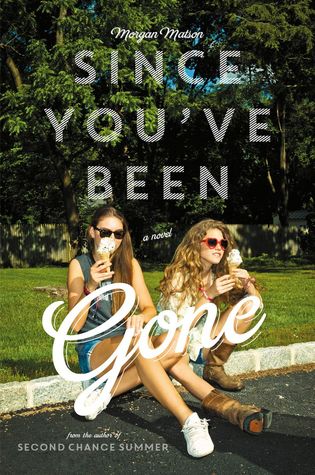 Kelly Clarkson sings that title for me every time.
Rating: 4 stars
Matson writes dialogue really well; I never once thought the lines uttered were contrived. Also, thanks for the song recommendations, book!
The main cast of characters are endearing in their own ways that make me care about them. They just jump off the page for me in the sense that they're realistic (and they are thankfully not immature for their age, which to me, is a huge turn off for characters in YA). Also found myself LOLing throughout the book! I think the two characters I love the most are Frank and Bucket♡
And it's great that the central focus was the friendships as opposed to romance calling shotgun (because the latter seems to take center stage rather quickly in most contemporaries that I've read).
There was a lot of hype surrounding this book and it being my first Morgan Matson read, I suppose I was slightly disappointed BUT only because I went in with really high expectations. A thought: While I've found that having expectations generally gets you more hyped up about reading the book, the set standard possibly hinders your complete enjoyment of the novel? Say, as compared to if you didn't raise the bar to begin with, will you possibly have enjoyed the read any more or less? What do you think? 
[mild spoiler-y review ahead]
I really appreciated Emily's arc – it was great how she stood her ground when she finally found Sloane. And I liked that it took her multiple tries to get on a horse – it seemed more natural to chicken out than to jump on board because of her drive to complete the list to reunite with her bff.
The video call with Lissa was a nice touch; it would've been harder to explain her storyline/ current POV of her relationship with Frank if it was relayed to us purely through a phone conversation with Emily. I think as readers, we needed to 'see' her so as to paint a less sketchy judgment of her character that has mostly been mentioned indirectly throughout the novel.
2. Salt to the Sea by Ruta Sepetys
Rating: 5 stars!
I generally shy away from historical fiction because the macabre images from history class sent shivers down my spine. But this was an effort to read beyond my comfort zone and I was surprisingly engrossed. Definitely venturing into this genre in the future!
This was just sooo good; it's been a while since I was that invested in a book and its cast of characters. Undoubtedly, my lack of knowledge and familiarity with the period of history in which this novel takes place made it slightly difficult to keep up with the alliances and enemies, but reading this has piqued my interest in that region's history.
Beautifully written (seriously, the writing style is stunning and has me in awe) and absolutely hard-hitting; such a gem. Also really appreciated the research that went into the making of this novel. (I watched an interview with Ms Sepetys not long after I've finished the novel and my gosh, she seems like such an intelligent and passionate individual. So impressionable and inspiring)
Cannot wait to pick up between shades of grey and all future novels by Ms Sepetys!
3. Hector and the Search for Happiness by Francois Lelord
Rating: 3 stars
This book has a strong start and is a good reminder to take stock of your life in terms of satisfaction (or the opposite), delving into the root causes. The simplicity of the way this was written, strip bare of any flowery language – just the essential descriptions to form a mental image of the setting and characters – provides fresh insights and focus to the themes explored. Though I wonder if anything was lost in translation…
The presence of the narrative voice is strong despite the novel being written in third person. While I liked that the writing did not undermine the reader's intellect and threaded carefully on sensitive subjects, I personally disagreed with some of the opinions discussed, especially the one about not having a choice when it comes to religion.
Reading this has piqued my interest in psychology and Hector certainly has an endearing way of making readers laugh.
4. Every Last Word by Tamara Ireland Stone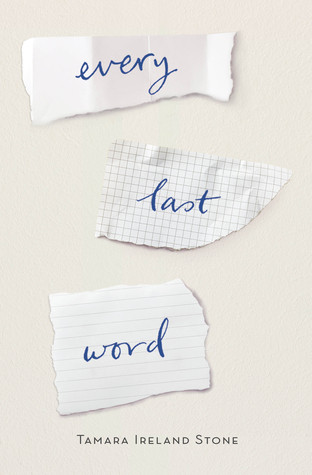 Rating: 3 stars
A refreshing read with consistent characters that really picked up for me in the later half of the novel. Truly did not see that coming (for those who have read it, I'm sure you know which part of the plot I'm talking about)!
I liked how the story played out; the ending was fine by me and I loved the intimacy we got with the protagonist.
The only qualms I had are:  [mild spoilers ahead]
a) The social politics
What put me off in the first half of the book was the crazy eights because I don't have the patience for such immature behaviour, and their petty concerns plus their cringe-worthy dialogues… I can't. And since Sam had some sort of awareness of the superficiality with regards to the quality of her friendships, it was pretty straightforward to me in that she simply needed to rid herself of people that aren't positive influences in her life, hence my frustration at her inability to cut ties. I know this is probably easier said than done – I suppose pressurising even – considering insecurities, and having to step out of your safety net… but sometimes, the hardest decisions are the ones we really have to make to help ourselves, no?
(also, I was super proud of her when she stood up to them in AJ and Hailey's instances)
b) AJ
I needed to know more about him and how he came to feel what he eventually did for/about Sam. Their relationship just seemed a bit rushed for my liking… and was he late for class when Sam blurted about Caroline or if not, why did he choose to react the way he did? I'll admit I was disappointed. and even disapproved of how he distanced himself since that only served to affirm her fears. I mean, ideally he should have been concerned enough to rationalise that avoidance was not the way to go but I don't know, maybe some space was for the best since in his defense, he had no clue about how Sam will react…. gah. I just need to get into AJ's head is all I'm saying.
5. Everything, Everything by Nicola Yoon
Rating: 5 stars!
I don't remember the last time I finished a novel this quick. Perhaps it has something to do with the format of the chapters, but Everything, Everything is by far my favourite read of 2016 at the moment, and definitely one of my favourite books of all time. I will pick up any book Nicola Yoon writes.
Ingenious storyline, good pacing, raw and sincere characters that are just so so so real. The dialogue never fell flat, humor was aptly surfaced and I turned each page wanting more. The character arcs and relationship progressions are so well done and I just – HUGS NOVEL HUGS FOR ALL.
I think what really made this novel for me was the writing style. Refreshing, honest narration that did not come off as expository, and hit me right in the feels. ALL THE FEELS. The execution was on point. There's some hard-hitting things addressed and questions brought up that forced me to confront what was hiding in the back of my mind… I love it when a book shines insight and helps realisations dawn – and not in the bam this is it way – rather, in a way that allows you to draw your own conclusions after giving you food for thought.
I also really love when a book references other books because :
a) if you've read the referenced titles, there's this whole new layer of meaning that makes the story itself (both the referenced and referral) that much more special and
b) if you haven't picked it up yet: YAY NEW BOOKS TO ADD TO YOUR TBR!! 😀
Rereads are rare for me, but I foresee this an exception; as Madeline says, the meaning of a book changes each time you read it. There is so much value in stories and I can relate to Madeline's relationship with her books, but as Nicola has reminded us, living through the pages is not the same as living in the experience. 'A tree described is not a tree' (or something along those lines). As a reader who feels so much a part of the worlds I read of, it's a tough truth to digest.
Some takeaways in a nutshell:
LIVE LIFE TAKE CHANCES REGRET IS PART OF LIVING NOT TAKING RISKS IS IN ITSELF A RISK
I borrowed this from the library and the need to have my own hardback is real, yall. Can I also say how gorgeous the illustration are in this book?